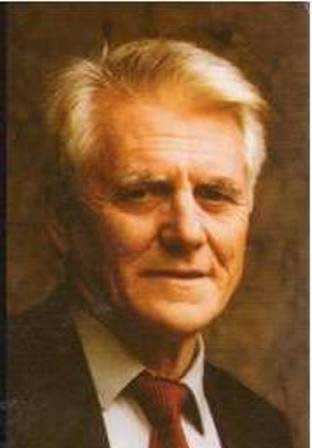 Historian, was born at Lower Row, Pen-y-wern, Dowlais, Methyr Tydfil in September 1925, he was educated at Cyfarthfa Castle Grammar School and Gwernllwyn Independent Chapel and, after army service, at the University College of Wales, Aberystwyth and University College London. He was a Lecturer in Welsh History at Aberystwyth, 1954 – 1963, Senior Lecturer, Reader and Professor (1965) of History at the University of York, 1963 – 1974 and in 1974, Professor of History at University College, Cardiff, a post from which he retired in 1983.
Gwyn married Maria Fernandez in 1950 and had a son, Simon Alun Williams in 1951.
From 1985 he worked as a writer-presenter for television and participated in several memorable productions.
In 1995 he was saluted for his historical and television work by Yr Academi Gymreig, the Welsh Writers Union and the BBC, at Chapter, Cardiff.
An authority on modern Socialism and Marxism, he made a major contribution to the history of Wales, especially in respect of its urban and Radical traditions in the eighteenth and nineteenth centuries.
His books are characterized by passion, a colourful style and wide erudition, qualities which made him one of the most recognizably individual public speakers in contemporary Wales.
He saw himself as "a people's remembrancer", attempting to influence contemporary opinion by a dramatic presentation of Welsh history. More than anyone of his generation Gwyn A. Williams infused scholary history with immediate concerns, and his books, in range and content, reflect both his rooted particularity and his international prespective.
They include Medieval London: from Commune to Capital (1963), Artisans and Sansculottes (1968), Proletarian Order: Antonio Gramsci, Factory Councils and the Origins of Communism in Italy, 1911-1921 (1975), a translation of Paolo Spriano's Occupation of the Factories: Italy 1920 (1975), and Goya and the Impossible Revolution (1976).
His books on specifically Welsh subjects are The Merthyr Rising (1978), Madoc: the Making of a Myth (1979), The Search for Beulah Land (1980), The Welsh in their History (1982) and When Was Wales? A History of the Welsh (1985).
On the last named was based his part in the making of the television series, The Dragon has Two Tongues, for Channel 4 and HTV, written in association with Wynford Vaughan–Thomas and broadcast in 1985.
His other series include Excalibur: the Search for Arthur, an examination of the Arthurian legend, and The Delegate for Africa: David Ivon Jones (1883–1924), Hughesovka and the New Russia for BBC2 and S4C, and Writing on the Line for Channel 4, which won a BAFTA Wales award in 1991 for the best drama documentary.
Obituaries by Dai Smith in the Guardian (17 Nov 1995) and The Welsh History Review (vol 18, no.2 1996) and by Meic Stephens in the Independent (18 Nov 1995) and the apprecation by Geraint H. Jenkins, The People's Historian (1996).
See also the volume of reminiscences by Gwyn A Williams, Fishers of Men (1996).
Gwyn Alfred Williams died in November 1995 in Drefach, Felindre, Llangeler, Dyfed.